Pirin Golf & Country Club is a 5-star resort located 160km to the south of Bulgaria's capital, Sofia. Nestled in the foothills of one of the country's most beautiful mountain ranges, and Bulgaria's top Ski town, Bansko. With a stunning alpine backdrop formed by the spectacular Pirin Mountains.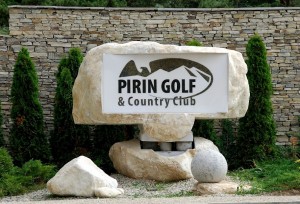 The resort boasts a top-level golf club, six international restaurants (including Greek, Italian, French, Irish Pub, Bulgarian etc.), café bars (with pastry), shops (including Supermarket, Sport's shop, Shoe shop, perfumery, alcohol, gifts shop, etc.). There are dentists', medical centre, dry cleaning, pharmacy, hair-dressers, photo shops, bank, travel agency, ski rental, snooker hall, equestrian centre, tennis courts, indoor and outdoor swimming pools, large spa and wellness centre; and beautiful unspoilt UNESCO scenic views. The complex is situated on 150hectare area. Located in the beautiful Razlog-Bansko valley, only 10 mins from Bulgaria's prime ski resort Bansko, the resort provides the unique opportunity for a golf & ski vacation. At any time of the year there is many reasons for a visit to Pirin Golf & Country Club.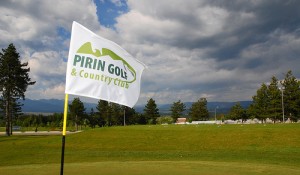 The resort features two golf courses, exclusively for the use of the residents and guests of the resort and its partners. There is an outstanding 18-hole, Par 72 championship course designed by the winning 2006 Ryder Cup Captain, Ian Woosnam. The second course is named after its surrounding area, i.e. Pirin Pine Course and at the moment features 5 fully constructed holes. It is designed by a young German company. The academy includes sophisticated video training equipment (Scope, S&M Putt Lab). The club also includes other facilities such as a golf academy, driving range, practice putting greens, half-way house and The Club House.
The crowning jewel of the entire resort is the prestigious Pirin Golf Club House. This beautifully designed and constructed building is modern in the spirit of tradition. Inside you will find a well-stocked Pro shop (shop for professional golf equipment from famous trademarks), changing rooms, conference facilities, VIP room, as well as a refined restaurant and bar. From the terrace of the restaurant one could enjoy the peace and quietness of the natural surroundings and overview both the magnificent 18th hole of the Pine course and the Ian Woosnam Golf Course, or sit back in a leather chair infront a big open log fire.
There are year round activity options for the region. During the better months you can explore the area by doing some hiking, hire ATV's, or mountain bike's. There are beautiful lakes hidden among the mountain range peaks; a bear reserve and much more. Not far away you can even take a bash at some whitewater-rafting. Then during the winter months the mountains come alive with skiers, snowboarders and ski-dos.

Mountain details: (Plans for much expansion)
Sofia International airport is serviced by many major European airlines.
Best of which coming from Ireland is www.lufthansa.com/ie
Renting a car from Sofia Airport www.naycar.com
Other car rental sites:
www.autorent.bg
www.rentacarbg.com
www.bulgariacarrent.com
www.rentacarbulgaria.com
Shuttle Buses: www.banskoexpress.com
This is a shuttle service costing from €14 per person each way PLUS €1 booking fee. €28 return. (£25 approx). * Prices correct at time of publishing.
Public Buses: Bus from Sofia to Bansko is about 13lev (€7 approx) and they go from the Sofia main bus terminal or Sofia Ovcha Kupal Bus Terminal a few times daily.
You will need to check these times.
Sofia Ovcha Kupal Bus Terminal to Bansko – 07:00, 09:20 (not Tues), 10:30, 11:50 (not Sun), 13:05, 13:55, 14:30, 14:40, 15:10, 15:28 (not Tues), 15:55, 16:30, 17:00, 17:30.
Bansko Bus Terminal to Sofia – 05:40, 07:00, 08:40, 13:15, 15:20
(not Tues).
Bus Station Bansko phone: +359 7498 2420
[iframe src="http://http://www.banskoski.com/en/livecam/3/" width="50%" height="480"]